Courses Offered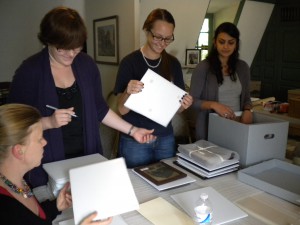 View the current listing of courses.
Comprehensive Course Listing
Many museum studies courses are cross-listed in individual departments. Enrollment figures may not be accurate. Students may take up to 3 approved (1) credit elective courses to equal 1 MSST elective.
MSST 600: Introduction to Museums
This course provides an introduction to the history of museums to the present day and examines selected current issues in museums management. This the required course for all students pursing the MSST Certificate. (CORE)
MSST 601: Museum Curatorship: Collections Management
Collections management theory and practices that focuses on the administration, handling, physical care, recording and study of museum collections. Combines classroom instruction, demonstrations and field trips with "hands on" projects in the University Gallery and other area museums. (CORE)
MSST 602: Curatorship and Management of Archives and Paper Collections
An introduction to theory and best practices in collecting and management of archives and paper collections, including collecting, processing and access, and care. Combines classroom instruction, demonstrations and field trips with "hands on" projects. (CORE)
MSST 603: Museums and Technology
Examines the use of technology in museums with an emphasis on communication strategies for museum exhibitions and off-site learning. Topics include digital image processing, typography, collections databases, CAD, and web design. (CORE)
MSST 605: Historical Properties
Administration and interpretation of historical properties, including historic site surveys, preservation research, building restoration, conservation techniques and the establishment and attainment of interpretive objectives. Field trips to area historic sites. Combines classroom instruction and work projects at area historic sites. (CORE)
MSST 607: Museum Education and Interpretation
The theory, strategies, practices, evaluation and administration of learning in a museum environment with emphasis on interpretation of collections through a variety of instructional means. Lectures, discussions, field trips, program planning, curriculum development, proposal writing, audience studies, practice teaching and special project work with area museums. (CORE)
MSST 609: Introduction To Material Culture Studies
This course offers an introduction to the study of American material culture, with an emphasis on social and cultural-historical approaches and research methods. A series of readings introduces important themes (examples: the performance of class, gender, and racial identities; the commodification of everyday life) and ways that historians can work from artifacts as primary sources. Students will produce papers based on both primary and secondary sources. This class counts as a graduate readings course. Crosslisted with Hist 609 By permission of instructor. (ELECTIVE)
EAMC 609: Craftsmanship in Early America
Offered through the Winterthur Program in American Material Culture. By permission of instructor. (ELECTIVE)
MSST 610: Exhibitions
Focuses on the planning, designing and fabrication of economical museum exhibits for changing exhibition rooms and alternative spaces. Emphasizes time-, money- and labor-saving techniques. Students design and produce a temporary exhibit in the University Gallery or in a local museum. RESTRICTIONS: Open to graduate students only. (CORE)
MSST 629: Theory and Practice of Historical Preservation Planning
Examines historic preservation planning process, theory supporting this process and contemporary practices. Case studies used to demonstrate integration of theory and practice. Cross-listed with UAPP 629, ARTH 628, and HIST 652. (ELECTIVE)
MSST 663: Historical Archeology and the Public
Provides practical experience through involvement in a project at an agency, research center or museum which researches, interprests, administers and preserves historical archaeological resources for the public. For students planning careers in historical archaeology, public history, university teaching, the museum field and historic preservation. Cross-listed with ANTH663.(ELECTIVE)
MSST 667: Special Topics
1-3 Credits. (ELECTIVE) including:  Fundamentals of Professional Fundraising, Special Event Planning and Grantsmanship & Proposal Writing
MSST 804: Museum Internship
Practicum in administration, collections management, exhibition, research, interpretation, and public programming and services of museums. Required of all students completing the Museum Studies Certifiate. By permission of instructor.
MSST 866: Independent Study
A special problems course in which students develop selected museum studies topics, by arrangement with program faculty. Directed study format.