The Museum Studies Program has a long history of service to the field, dating back to the work of founding director Edward Alexander Porter. When I became its director in 2009, I decided that this tradition should become the heart of the program. Museum Studies now emphasizes professional training through hands-on experience and service. Our intention is that that graduate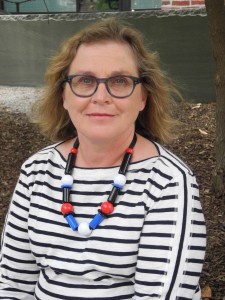 students develop an ethic of service, along with the ability to work together in teams, as part of their profile as emerging professionals. Whenever possible, students complete group projects for area museums in our courses. Our annual "Collections SWAT Team" has contributed over 3,600 hours of work to small museums since 2010. And, of course, the oldest but still vital part of the certificate program is the internship requirement that all of our students complete. Because they feel that they are members of a team at their host organization, our students often return to their internship sites to volunteer their time and talents outside of class.
The Museum Studies Program not only works closely with cultural organizations in our region, but the staff and students also serve the field through volunteer work in professional associations including the Delaware Museum Association and the Small Museum Association. We recently completed a three-year project, Sustaining Places, funded by the Institute for Museum and Library Services, that was dedicated to creating resources and professional development opportunities for both our graduate students and paid and unpaid staff at small historical organizations in our region. While the workshops are over, the project website www.sustainingplaces.com, an online encyclopedia of resources arranged by topic, continues to grow.
Our new logo reflects the good energy of the Museum Studies Program and the relations that we have worked to build. It is based on four circles, representing our students, the program faculty and staff, our partners (both institutional and individual), and the extraordinary resources of our university. It's really a Venn diagram in motion, and my ambition is to foster and enhance the "sweet spot" where all these circles meet, and to keep the resulting energy and expertise moving forward together.
~Kasey
Dr. Kasey Grier, Director, UD Museum Studies Program