Summer Internships, Had Me A Blast!
Summer internships, happened so fast! With Autumn officially upon us, a number of Museum Studies graduate students have wrapped up summer internships in Maryland, Delaware, and Pennsylvania, and shared with us a brief snapshot of their summer work.
Patience Ankomah
Patience spent her summer internship conducting archival research related to the Black enslaved and freed population of Montgomery County, Maryland. She worked primarily with the Beall-Dawson Museum and the Jane C. Sween Library, researching how Black people have utilized religion and spirituality, education, and oral history battle oppression.
Her work was in highlighting the connection between the aforementioned factors, and how they have contributed to the construction of Black resistance, culture, and identity from the 17th century-19th century, throughout Montgomery County. She was also able to learn more about the manner of dress of the enslaved population via fugitive ads (aligning with the theme of Black resistance), diaspora aesthetics, and Black identity, which strongly connects to her interests in the dress culture of Africa & the African diaspora.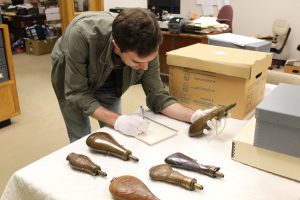 Ryan Bachman
Before interning at the Hagley Museum collections, Ryan had never even seen a gunpowder flask. However, by the end of his summer, he had become acquainted with 400 of them! Ryan's time was spent researching, cataloguing, and photographing these slightly obscure items, as well as quickly learning what made them such a prominent part of 19th-century American life.
While a large percentage of the hundreds of the gunpowder flasks that Ryan encountered were a commonplace metal, he also handled a few more unique models. These include a flask carved from the body of a turtle, and another limited edition flask that was only ever produced for the U.S. Navy in 1845. Ryan also documented his time at the Hagley Museum with blog posts on the Hagley website.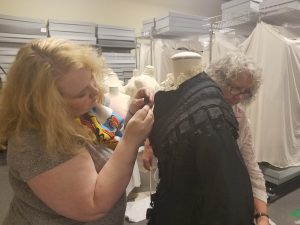 Nora Carleson
Nora interned at the Maryland Historical Society (MdHS) Fashion Archives in Baltimore, MD, cataloging, cleaning, conserving, re-housing and researching historical garments and accessories, as well as mounting garments for exhibition and photography. She focused her work on Baltimore Dressmakers and European Couture from 1870-1928, re-discovering fantastical gowns by European couturiers as well as over twenty dresses by Baltimore dressmakers, including Lottie Barton and two gowns she designed that were worn by First Lady Frances Cleveland.
Her summer work culminated with a twenty-five minute public presentation: "Baltimore Dressmakers: Making the City a Center of Fashion 1870-1925", the data import and use of an app that will be used in the final exhibition, the creation of an encyclopedia of Baltimore Dressmakers from 1860-1925, and ten blog posts which appear on the Fashion Archives Blog on the MdHS website.
Laura Earls
Laura spent her time as a Curatorial and Collections Management Intern at the Museum of the American Revolution in Philadelphia, Pennsylvania delving into the collaborative work that her department did across the museum. Because of her previous research related to women's autonomy in early America, her first major project was to craft a bibliography for an exhibit scheduled for the centennial of women's suffrage.
In addition to this, she had multiple other projects, including exhibit research, object label writing, accessioning objects, and updaying information in PastPerfect. She worked closely with curators, registrars, and education, sitting in on their meetings and learning about the museums approach to interpretation.
At the Delaware Historical Society, Kery created a mustic-and-movement preschool program as part of the Museum's Education & Inspiration team. Her program got preschoolers moving, exposed them to everything from Sousa marches to jazz to Puerto Rican music, and introduced them to the building blocks of musical expression in developmentally-appropriate language.
At the end of her internship, she conducted a pilot program with a class of 14 preschoolers, with much success. She then adapted the program for a Clifford Brown-themed jazz preschool program called "Follow Clifford!" and expanded the program for second and third graders.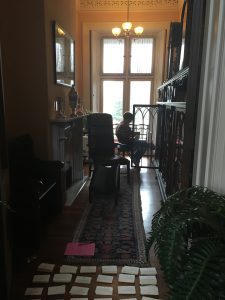 Sam Nystorm
Sam started her internship at Rockwood Park & Museum in January 2018 during The Museum Studies Department's annual SWAT. Tasked with the "Book Project," she and her fellow colleagues worked to clean and record each book. Sam continued with this project, where she finished identifying all of the books, found their Library of Congress numbers, photographed each work, and compiled all of this information into a database.
All in all, she worked with over 2,000 books, learning much about library and book preservation practices; she also discovered much about nineteenth-century Americans' reading practices. As a nineteenth-century literature scholar, Sam appreciated delving into this vast library of the Bringhurst Family.