Collections Aid (C-AID) 2022
by Pamela Ahern
This year's Collections Aid projects focused on making archives more accessible through digitization and cataloguing. As will be the case moving forward, Collections Aid projects will aim to serve a diverse range of institutions with collections but which may not consider themselves "museums." As a result, Collections Aid will invite students to put their coursework into practice at a broader range of institutions that relate to the field.
To support this work in 2022 and beyond, the Program received a generous pledge of $25,000 from the art storage company UOVO, and also received $10,000 in grants from the University's Partnership for Arts & Culture. The funding supplied scanners, laptops, and other supplies, with our community partners keeping one scanner and laptop each, in order to continue the work our C-AID team started.
Christina Cultural Arts Center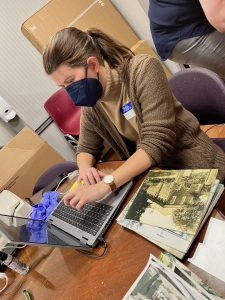 Beginning in January at the Christina Cultural Arts Center (CCAC) in downtown Wilmington, the C-AID team digitized thousands of records, from photographs to event posters and scrapbooks documenting CCAC's seventy-year history of providing accessible arts and education programs. Uploading scanned material into a shared digital database, metadata was added to each record and a catalog was built to hold that documentation.
Metropolitan Wilmington Urban League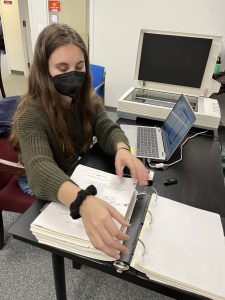 Another C-AID project, pushed into March due to the pandemic's winter resurgence, was with the Metropolitan Wilmington Urban League, also in downtown Wilmington. As the Delaware chapter of the National Urban League, their mission is to "empower people of color to achieve economic self-reliance, parity, power, and civil rights." The C-AID team helped digitize thousands of policy proposals and program records, converting them into searchable PDF files. In addition, the team used program participant records to build a new digital alumni database, which the Urban League will use to follow and connect with the individuals they have served over the years.
St. John African Methodist Church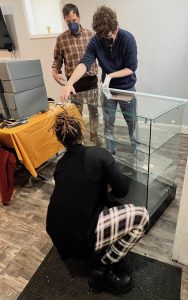 Finally, we worked with St. John African Methodist Church on New London Road in Newark. Established in the mid-nineteenth century, St. John has a rich history of serving its community through spiritualism and education. The C-AID team re-housed the Church's physical records and created a catalogue indexing them. C-AID participant and UD English PhD candidate, Brittney Henry, felt a strong personal connection with our work at St. John: "I had been mapping Black existence in Newark from 1820 to 1860 as a class project. Older maps of Delaware have no black names, only those of white landowners. Working with St. John was a different experience. It was amazing because I was helping a community space within Newark that told the history of the area."