Museum Studies Certificate Credit Requirements
If you are interested in the Museum Studies Graduate Certificate please fill out the intake form here AND set up a meeting with Director, Dr. Lu Ann DeCunzo.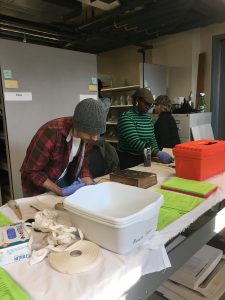 Credit Requirements
The Museum Studies Program is open to any fully matriculated graduate student at the University of Delaware. The certificate requires a minimum of 12 hours of course work. You are welcome to take additional credit hours as your schedule permits. Students who have registered to receive the certificate always receive priority in course registration. The Museum Studies Certificate appears on your transcript as a "concentration."
The certificate requires completion of the following courses:
MSST 600: Introduction to Museums (3 credits).
MSST 804: Internship (3 credits).
3 credits of Museum Studies core course(s). This can be completed by taking one 3 credit course or three 1 credit courses.
The remaining credits are taken as a Museum Studies elective. Students may choose from the graduate MSST courses found HERE or may petition to have another related course apply for these credits. Students may also use three approved one-credit courses to fulfill this requirement.