What is Collections AID?
Collections AID, or C-AID, is a graduate student collections-oriented service project performed over a two week period every January. The annual projects were originally funded by an Institute for Museum and Library Services grant from 2011-2015, and are currently sustained by a gift from UOVO Fine Art Storage and annual support from the University of Delaware, Delaware Humanities, and the generosity of local suppliers.
Collections Aid helps institutional partners and community organizations preserve and organize their collections and related information, while giving UD Museum Studies students credit toward the Graduate Certificate for applying their classroom learning to the design and execution of collections overhauls that go above and beyond traditional internships. From organizing storage facilities and building collections housing to cleaning up institutional or catalog records, C-AID leaves a lasting legacy of improved collections preservation, knowledge, and access.
C-AID typically (but not exclusively) serves smaller organizations without enough professional staff to complete the project. If your organization is interested in being considered for a C-AID project, please complete and submit the following Self Nomination Form. You can also print and send in the following Form.
---
C-AID 2023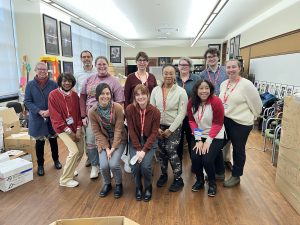 Howard High School Alumni Association, Wilmington DE.
January 17-20 and January 23-27, 2023.
---
C-AID 2022
The Metropolitan Wilmington Urban League
Wilmington, DE.  January 17 – 20, 2022
Christina Cultural Arts Center
Wilmington, DE, January 24-27th, 2022St. John's AUMP Church
Newark, DE. January 28th, 2022
---
---
C-AID 2021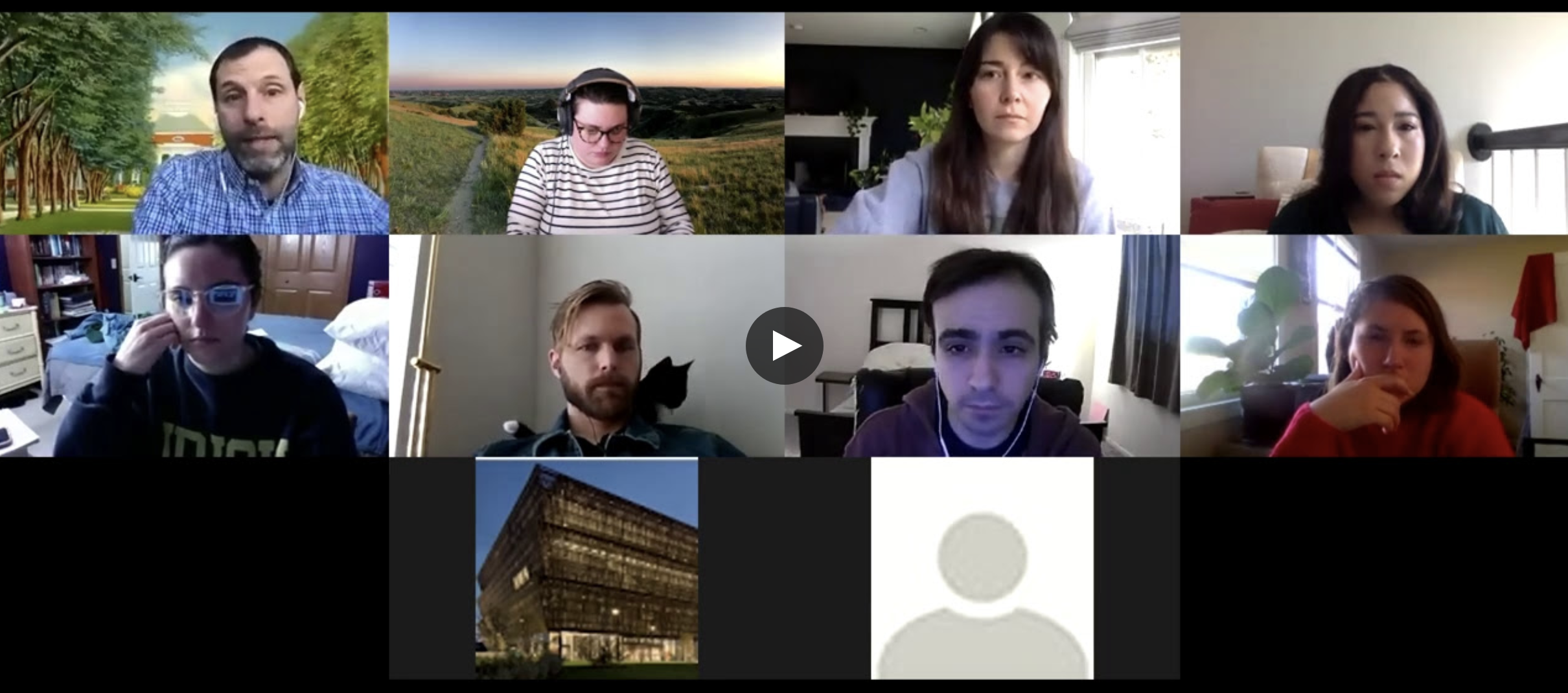 Delaware State Division of Historical and Cultural Affairs Dover, DE. January 18-21 and January 25-28, 2021.
---
SWAT 2020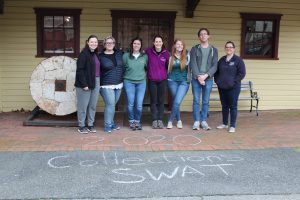 Greenbank Mills and Phillips Farm, Wilmington, DE. January 13-16 and January 20-23, 2020.
---
SWAT 2019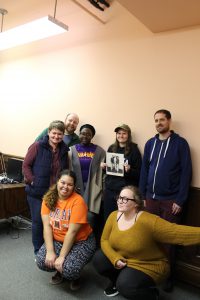 The 10th Annual Collections SWAT Team took place at the Delaware Historical Society Archives, Wilmington, DE. January 7-10 and January 14-17, 2019. The team worked with Chief Curator, Leigh Rifenburg, and Preservation Librarian, Bill Robinson, on clearing, organizing, and pre-cataloging a large office full of collections items that ranged from early American republic receipts to modern-day political and protest signs.
---
SWAT 2018
The Rockwood Mansion and Museum, Wilmington, DE. January 8-11 and January 15-18, 2018. Students worked with Museum Coordinator, Loretta Spigel, cleaning and organizing the large storage room in the Carriage House conference center; revising the "room books" that list the item in each room of the house tour; cleaning and beginning a cataloging process for the large family collection of books; and working on the complex process of cleaning up collection catalog records and related paper files.
---
SWAT 2017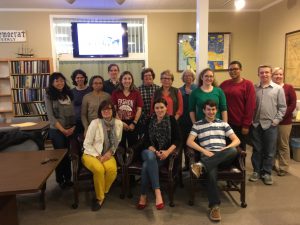 Historical Society of Cecil County, Elkton, MD. January 9-12 and January 16-19, 2017. The 2017 Collections SWAT focused on the vast textile collections at the HSCC. The students worked with curator Lisa Dolor to identify, clean, photograph and rehouse over  550 objects. These ranged from a 10 piece Quaker wedding dress from 1870 to Vietnam era military uniforms. The students helped identify all WWI objects in the collection for an upcoming WWI exhibitions which the HSCC will launch in April of 2017. There was also a complete assessment of the Society's Military Museum collection. A curatorial workspace was created in a former storage space. Click here for an album of some of the 2017 SWAT highlights.
---
SWAT 2016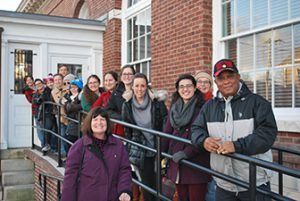 Milford Historical Society, Milford, DE. – January 11-14 and January 18-21, 2016. The 2016 Collections SWAT Team wrapped up its work at the Milford Museum on January 21st. Sixteen students from the University of Delaware, three from the Bard Graduate Center in New York City, and one high school student exploring museum work joined forces to accomplish big things. From cataloging a doll collection to de-installing an old exhibition (including a full-scale replica cannon) and patching and painting gallery walls, our students proved that they can do it all! The most unusual project was cleaning and rehousing a collection of historical documents that had been found in the wall of an old house in Milford. Thanks to Executive Director Claudia Leister, Museum Assistant Barbara Jones and Commissioner Charles Hammond, Jr., for their kindness and enthusiasm. We're proud of our students and our guest helpers, too. Click here for an album of some 2016 SWAT highlights.
---
SWAT 2015
SWAT 2015 at Milton Historical Society of Milton, DE was a great success! Official statistics will be released soon, but students cataloged, rehoused, and entered into PastPerfect over 600 objects. Students also cleaned their extensive uniform and hat collection, built archival boxes for fragile account books, and reorganized their storage space so more storage and work space became available.
---
SWAT 2014
Our 2014 Collections SWAT Team completed their two-week project at the Upper Bay Museum in North East, Maryland.  You can read about the accomplishments of our SWAT Team in these feature articles by UDaily and the Cecil Whig, or in this blog post by participant Nicole Belolan.
---
SWAT 2013
In January 2013, our fourth annual SWAT team went to the Vineland Historical and Antiquarian Society in Vineland, NJ. The oldest local historical society in the state of NJ (founded 1864), Vineland has been housing thousands of objects in its purpose-built building for almost 100 years, and it was our mission to help them sort through some of it. You can read about the experience in this blog post by participant Nicole Belolan.
---
SWAT 2012
In January 2012, a group of UD students volunteered at the Auburn Heights Preserve State Park and the Marshall Steam Museum at Auburn Heights Preserve as part of the SWAT Team project. The students worked with collections owned by the State of Delaware (encompassing the historic house museum and its contents) and the Friends of Auburn Heights Preserve (19 Steamer autos, a steam railway, and associated collections). The students got hands-on experience with antique household furnishings, a collection of model trains, the Steamer cars, and historic photographs and trade catalogs associated with the Steamers.
---
SWAT 2011
This was the first SWAT project sponsored by the IMLS 21st Century Museum Professionals' Program. SWAT's visit to the Laurel Historical Society took place in January 2011.
---
SWAT 2010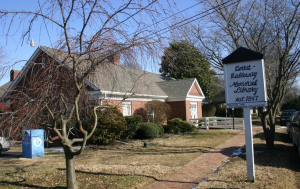 Our 2014 Collections SWAT Team completed their two-week project at the Corbitt-Calloway Memorial Library in Odessa, DE.