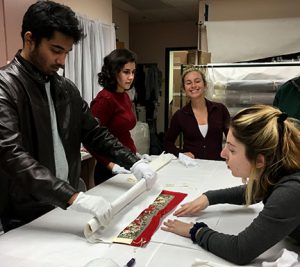 MSST 464: Internship/Service Project (3 credits – may be taken twice) is required to complete the undergraduate minor in museum studies. The internship consists of 135 hours on-site (or virtual if approved beforehand) of supervised work experience intended to complement the program's courses and provide real-world experience in a museum, historic site, public garden, archive, or other related organization. Students may also choose to participate in other service projects that are approved by the Museum Studies Director.
The set of links below contain the requirements for setting up and completing internships for both students and sponsor organizations, offers advice on finding internships, and explains the internship policies associated with various academic programs. Both students and organizations interested in having interns should contact the Museum Studies Program early in the academic year to indicate their interest and to begin planning.
Follow the links below for additional information:

Forms for Students and Supervisors:                                
MSST Minor Internship Agreement
Final Reporting Requirements for Students and Supervisors
Internship hours should be logged using the log sheet found in your internship folder on the Google Shared Drive.
Kenneth Cohen – Museum Studies Program Director
Lois Stoehr – College of Arts & Sciences Internship Coordinator