Learning the Ropes and Sometimes Cataloging Them
Our UD Museum Studies and History undergraduate and graduate students were busy this summer doing internships in museums and historical sites from Delaware to Ireland and China!  From planning future exhibitions, to gaining experience with historic objects and much more, our students practiced a variety of skills to set them up for success within the museum and non-profit sectors and beyond. *Stewart Internships, G-Graduate, U-Undergraduate
Ellie Gorman* (G):  Ellie's experience working in educational programming at the Marshall Steam Museum has influenced the way she interacts with children in museums and her personal life as she strives to find "new ways to ask questions and interact with the kids to make the experiences as valuable as possible for them."
Helen Siers* (G):  Concentrating on building a gallery guide for families visiting the Delaware History Museum's "One State Many Stories" exhibit, Helen's summer at the Delaware Historical Society challenged her to research, choose, and create written information that will be accessible to visitors of all ages and interests.
Nicole Hetrick (U):  Nicole enjoyed the dynamic work environment of the Delaware Museum of Natural History, describing no two days as the same:  "one day you'll be researching Cretaceous dinosaur fossils and the next you'll be acting in the 'Mystery at the Museum' camp for children."
Brandon Bell (U):  At Grey Towers National Historic Site, Brandon's been busy practicing his interpretive skills, researching the Ballinger-Pinchot Controversy, and preparing for the site's largest annual event.  He is "proud to be part of the Grey Towers team," and hopes to find a means of sharing his research with the public.
Emerson Page (U):  Emerson's internship has focused on photographing collections at the New Castle Historical Society, gaining confidence with Past Perfect, and updating condition reports for objects.
Sharon Ruiz* (U):  This summer Sharon took on the challenging task of organizing the archives of the New Castle Historical Society.  She gained experience using Past Perfect, as well as strategically reorganizing the archives for efficiency.
Kathleen Stamos* (U):  For Kathleen's internship at the Laurel Historical Society, she gained experience in collections management.  This included scanning and rehousing artwork, as well as setting up a finding aid for one of the society's collections.
Katarina Humphrey* (U):  Katarina gained experience in collections management during her internship at the Laurel Historical Society.  One of her tasks included accessioning, digitizing, and organizing a selected collection of post cards.
Daniel La Mastra (U):  Daniel's experience interning at the Delaware Humanities has provided him with insight into the communications field and what it's like to work at a small humanities organization.  Among other tasks, Daniel researched ways of effectively using social media and utilized this knowledge to revive the Delaware Humanities Twitter page.
Lauren Tineo (U):  Lauren spent her summer internship at the Lewes Historical Society cataloguing papers and working to develop an educational children's program using a series of nineteenth-century letters between notable names of the day.  She hopes that "through this program, students will hone their writing skills but also learn about the communications of the past."
Rachel Nelson (G):  Rachel gained experience conducting condition reports on exhibits, learning protocol for dealing with damaged artwork, as well as exhibition planning during her internship at the African American Museum in Philadelphia.  The exhibit she planned this summer is expected to open in January 2020, and will utilize the museum's collections "to highlight Black youth activism during Philadelphia's Civil Rights Movement and Black Power Movement."
Jessica Thelen (G):  Jessica's work at the Delaware Historical Society Research Library has focused on finishing the work begun by the University of Delaware Museum Studies "SWAT" Team and helping with the upcoming Paul Preston Davis Collection exhibit at the Delaware History Museum.  She has "greatly enjoyed exploring the Davis collection and look[s] forward to finding materials related to the exhibit's themes of place, memory, representation, and health & hygiene."
Jeanette Bendolph* (U):  At the New Castle Historical Society, Jeannette focused on creating an open storage exhibit.  She gained experience researching the objects for her exhibit, writing labels, and discussing her chosen objects and information with site interpreters.
Kirsten Gobb (U):  At Trinity College this summer Kirsten gained experience conserving drawings and books.  Spanning three hundred years in age, the books presented an array of conservation conundrums that she had to puzzle through.
Abigail Manganiello (U):  Interning at the Delaware Academy of Medicine, Abigail was able to meld her interest in museums with her academic area of focus.  As she worked towards creating an exhibit about the history of autopsies she expressed her excitement about the opportunity to research specific objects in the museum's collection and "begin creating an exhibit using the things I've learned from the internship and from my Forensic Science studies at the University of Delaware."
Scott Debrecht (U):  Interning in Dublin this summer, Scott increased his skills as a tour guide, including working out how best to provide detailed historical knowledge to a range of audiences from across Europe.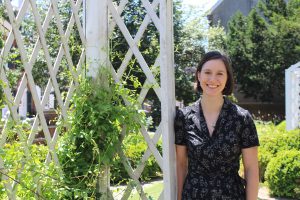 Susannah Philbrick* (G):  At the Read House & Gardens Susannah focused on planning a photography exhibition slated to open in Spring 2020. She also gained experience with a variety of tasks that allowed her to get a feel for the daily routine of museum professionals in a historic house museum.
Olivia Reiff (U):  Through attending events with museum professionals, Olivia's internship at the Ashville Art Museum gave her the opportunity to learn about the museum field and how her interests might shape a career path.  As she put it, these meetings "truly set this internship apart," providing the "cherry on top" for her experience.
Megan Londregan (U):  Megan's internship at Greenbank Mill & Philips Farm helped her gain experience assessing and cataloguing historical objects, working with archival materials, and practicing the proper means of handling objects.