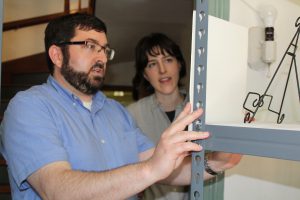 Requirements for Host Institutions

Thank you for your interest in hosting an intern from the University of Delaware Museum Studies Program. We ask that all hosts provide a detailed job description for the intern in a signed Internship Agreement and, if possible, provide at least a small stipend to help support their intern's work. We also require that each supervisor complete the internship evaluation form.
Job Description for Intern
Interns are both emerging professionals and students. This means that they bring useful skills to your institution but also need opportunities to build new skills and gain experiences that will help them enter their careers. Your intern should have a job description that outlines both the specific projects and the routine duties that they will undertake. The intern must also have a designated supervisor at your site. We expect that your intern will observe the same work rules as other staff members. However, interns should also be given special opportunities to learn about your entire institution. This includes attending department and all-staff meetings, events and trainings where appropriate, and assisting with major institutional events, exhibits or programs when practical.
Financial Support
Almost all University of Delaware Museum Studies graduate students are self-supporting young adults and emerging professionals with real skills and prior related work experience. For this reason, we expect all institutions sponsoring a summer internship to contribute financially to the support of their intern. The size of this contribution is negotiated as part of the internship agreement. If your operating budget does not permit allocating funds to support an intern, please consider applying for grant support or seeking out a private donor.