The Collections SWAT Experience
2020-2021 Museum Studies Program Graduate Assistant, Ashley Buzzanca, discusses her experience as a graduate student participating in the 2020 Collections SWAT Team (now known as "Collections AID").
When I was deciding where to attend graduate school, the SWAT experience offered by the Museum Studies program was one of the things that attracted me to the University of Delaware. After having participated in SWAT, I can say with confidence that I made the correct choice of graduate programs. In January 2020, I was a member of the 11th Annual SWAT Team at Greenbank Mills and Philips Farm in Wilmington, DE. The collections triage aspect of SWAT provided me with a summer's worth of internship experience in just 2 weeks. It also allowed me to form friendships with other graduate students and the staff at Greenbank, especially Stacie Maheurin, the Executive Director.
After a tour of the institution, we started by completely clearing out an office on the second floor of the mill with the intent to use the office as space to store collections and institutional records and to conduct collections work. This involved bringing dozens of boxes and files downstairs and cleaning the office thoroughly, at which point we found dust, dirt, mold, dead bugs, and mouse droppings. Part of the team was assigned to go through the files and organize them into three categories–Institutional Memory, Education, and Collections.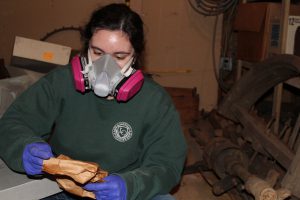 I worked on a different project involving the physical collections of Greenbank. Most of my time was spent in the back corner of the third floor of the mill, where I worked with a fellow graduate student, Susannah Philbrick, to organize shelves, rehouse archaeological materials, and clean the space. The excessive amounts of dust and the presence of mouse droppings required that we wear respirator masks while we were on the third floor. We spent the first week working on the third floor and the second week going through the collections materials that had been found in the collections office. We also received training in entering collections into PastPerfect collections management software. By the end of SWAT, the third floor collections area was almost unrecognizable thanks to our work. It was incredibly satisfying to create order from the chaos that existed up there.
Given that my main interest in museums lies in collections management, SWAT was one of the greatest experiences I have ever had in a museum. We were able to complete a vital task for Greenbank, a small institution that did not have the manpower to do the work that we did, at least not as quickly as we accomplished it. I highly recommend participating in SWAT for anyone in the Museum Studies Program who is interested not just in collections management, but in how museums operate from the inside.