The Delaware Art Museum is tucked away in a pleasant neighborhood in the heart of Wilmington. Whether you are a museum novice looking for something new to do or an experienced museum goer, the Delaware Art Museum provides a space for people of all ages and interests. With a sculpture garden and seventeen gallery spaces displaying a collection of American painting, illustration, contemporary art, and British Pre-Raphaelite art, there is so much to see. Helpful staff and an abundance of accessible resources like The Helen Farr Sloan Library and Archives, make it easy for anyone to have an enjoyable and educational experience.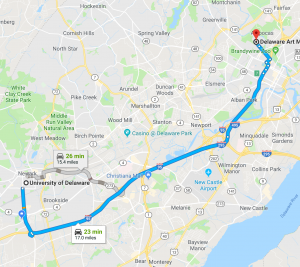 Getting There From UD: 27 min. (17.0 mi) 2301 Kentmere Pkwy, Wilmington, DE 19806
Price: $, Discounted Rates (seniors, students, children, family, veterans)
Hours: Monday and Tuesday: Closed
Wednesday: 10:00 a.m. – 4:00 p.m.
Thursday: 10:00 a.m. – 8:00 p.m.
Friday-Sunday: 10:00 a.m. – 4:00 p.m.
How long to spend: Approximately 1 ½ to 3 hours
Go here if you:
Visitors with an interest in American art and illustration, or 19th century Pre-Raphaelite art (which focuses on classical literary imagery from the Middle Ages), will find the museum a worthwhile trip. For visitors more interested in modern or contemporary works, the museum has pieces from notable artists like John Sloan, Edward Hopper, and David Chihuly. Families will have a fun time creating and exploring art in the museum's Kids' Corner. The museum welcomes visitors with physical disabilities providing designated parking spots and wheelchair accessibility.
Be sure not to miss:
The Bancroft Collection of Pre-Raphaelite Art is a must see. This collection is a rare treasure for the small state of Delaware, being the largest collection of British Pre-Raphaelite art outside of the United Kingdom. On a nice day, visitors should take a walk in the Copeland Sculpture Garden outside the Museum. The Sculpture Garden features many interesting works of all styles, including a large labyrinth that people of all ages can enjoy.
Fun Activities:
The museum offers summer festivals and programming events inspired by the collection, such as learning traditional Latin culture and history through the art of dance and scavenger hunts for kids based on Howard Pyle's pirate paintings as well as more special events (see special events below).
Know before you go:
The Museum offers free admission on Thursday evenings from 4pm to 8pm and is free all day Sunday. There is free parking behind the Museum. They offer public tours every Saturday and Sunday at 1 and 2 pm. All exhibits are included in the admission price, and the sculpture garden is open to the public.
We wish they had:
The lower level of the Museum included a Library and a Kids' Corner but these resources were not advertised well enough to facilitate the visitors into that area. The entry staircase was open but little direction or invitation was provided, so we suggest more signage in the museum.
The museum is working to better reflect the diverse Wilmington community, in which it is situated. The permanent gallery spaces are dedicated to displaying works from the original collection and communicating the narratives of the museum's original donors. The museum is beginning to take steps towards inclusive representation in their artists, artwork, and staff. This has included temporary exhibits spotlighting African American Art, the development of community programs, and hiring more people of color. We hope that inclusive representation will continue to play a larger role in the museum's collecting practices and permanent gallery spaces. The Delaware Art Museum strategic plan looks promising and reflects their mission of "offering an inclusive community resource."
Opportunities for Additional Learning:
In addition to the wonderful gallery spaces, the museum offers research opportunities for students, scholars, and the general public. The entire 12,500 work collection is digitized and can be browsed on the Delaware Art Museum website. The Helen Farr Sloan Library and Archives includes monographs, exhibition catalogs, periodicals, reference works, and individual artist files that reflect the museum's permanent collection. The library also contains the extensive archival collection of American artist John Sloan.
Special Events to Look For: For adults, the museum offers a "Happy Hour" event on a variety of days throughout the summer. The museum also offers a variety of studio art classes in the new wing of the building that cater to all skill levels. Free yoga instructions are open to all age groups and are often held in the Sculpture Garden. Information about additional programming events and fun outreach activities can be found in the museums seasonal newsletter easily accessible through a hard copy pamphlet and an electronic copy on the museums website.
Consult the website for current hours, directions, and more details
https://www.delart.org/collections/british-pre-raphaelites/  (link to collections)
https://www.delart.org/collections/the-helen-farr-sloan-library-and-archives/ (link to library)
https://www.delart.org/education/studio-art-classes/ (link to studio art classes)
https://www.delart.org/programs-events/adult-programs/ (link to adult programs)
https://www.delart.org/about/strategic-plan-2017-2020/ (link to strategic plan)
Or on Social Media at:
@delartmuseum Instagram & Twitter
---
Brandywine River Museum of Art     Brandywine Zoo     Delaware Children's Museum     Delaware Art Museum     Hagley Museum and Library     Historic Odessa     Longwood Gardens     Newark History Museum     Winterthur Museum, Gardens and Library
---