Winterthur Museum, Garden, and Library, the property owned by Henry Francis du Pont, displays a stunning collection of American antiques. The 1,000 acre estate has meadows and woodlands, along with a 60 acre garden, house museum, library, and gallery. The garden is a very important piece of the museum, especially during the spring and summer. The museum includes a large gallery that houses a permanent collection and changing exhibitions.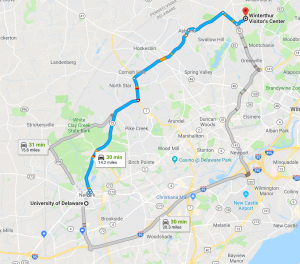 Getting There from UD: 5105 Kennett Pike (Route 52)  Winterthur, DE 19735
For in-car GPS and online mapping services, use: 5105 Kennett Pike, Wilmington, DE 19807.
It is a 45 minute drive from the UD campus. For parking availability, there is a visitor parking lot adjacent to the Visitors Center. A walking path leads to the Visitors Center. For handicapped accessibility, be advised that the property is large and hilly. Shuttle buses run on loops throughout the property for accessibility. Contact the Group Tours liaison with more accommodation questions and creating a specific tour experience.
Price: $$ Admission packages vary in price. Please check their website or call 800-448-3883 for more information.
Hours: Winterthur is open Tuesday through Sunday, but hours vary depending on the season.
Main House Tours
One popular attraction at Winterthur is the house tour. It lasts for an hour and fifteen minutes. Visitors stand for the duration of the tour, as the tour path is roped off. Auxiliary aides are available to groups via prior arrangement. Tours begin every few minutes, meaning some sound overlap may occur between rooms when two guides both speak. Photography is allowed with freestanding cameras (phones, tablets, and cameras) but no tripod equipment is allowed in the house. There is ample time in every room for photography as the guide speaks. In a small group there is space to circle around and photograph from every angle, but larger groups may feel slightly constrained by the roped off path set through the house. Tour guides deliver information at a steady pace and prompt groups to ask questions. The house itself cannot be described fully because Winterthur alters tours to give returning visitors a brand new look at the house. The grand design and emphasis on American antiques can be seen in exquisite detail throughout the house. 
Museum Galleries
Another crucial part of Winterthur's extensive museum and interpretive resources are the galleries. Winterthur entertains both permanent and temporary exhibitions, most of which come straight from the collections which H.F. DuPont accumulated during his lifetime. The permanent galleries include exhibits which chronicle styles of furniture through time as well as the goods which were made from certain materials by different artisans, such as iron, wood, and brass. The galleries are overall a rare inclusion of the human element into the site's interpretation, which is usually focused on decorative arts for its own sake. Another permanent gallery houses the reconstructed shops of the Dominy family, clock and cabinet makers from 18th and 19th century New York. The rest of the permanent galleries focus largely on early American artists. Rotating galleries focus on decorative arts, with collections of pieces such as highly decorated porcelain and furniture taking up most of the exhibit spaces.
Gardens
Henry du Pont's beloved gardens are on full display reflecting his love of nature and the harmony of the garden. In this peaceful refuge visitors can literally "stop and smell the roses" and take in the beauty and majesty of the Brandywine Valley. Visitors can wander down tree-lined paths, gaze into lily filled reflecting pools, and maybe catch a glimpse of a goldfish sparkling in the sun.  Find a bench and take in the quiet beauty of the gardens, the multitude of surrounding colors, and quiet scampering of squirrels and fluttering of fairy wings in the Enchanted Woods with its delightful fairy garden, serpentine pathways and frog hollow. Calm your spirit and fill your soul as you soak in the fragrance of the flowers and woodlands. Just delight in what Henry du Pont has created. In the Winterthur Gardens you can, "Bloom where you are planted."
How Long To Spend: The estate is large, and visitors could spend an entire day walking about the grounds or a few hours in the house and galleries. Visitors should consult the website before going, and decide what they want to see beforehand.
Go Here If You: Lovers of American antiques should not pass up the opportunity to visit the plethora on view. Those with an interest in American architectural history can experience a variety on the house tour. The gardens are delightful for visitors of all ages, and different gardens engage different viewers.
Be Sure Not To Miss: The gardens during spring or summer time, their impressive collection of soup tureens (unrivaled in the United States). Consult the website to see what is on view, because there is something to interest everyone at Winterthur.
Fun Activities: For children, Winterthur has activities such as the Time-Traveler's tour- a house tour designed specifically for young visitors. The Touch-It Room in the Galleries allows children to engage their sense of curiosity and touch.
Know Before You Go: If you want to attend a special event or exhibit, consider booking tickets in advance, because events sell out frequently.
We Wish They Had: More context for the house tour- the house is enormous and it is disorienting as you travel through many rooms and descend staircases. More gallery space or open storage would allow even more of their spectacular collections to be available to the viewer. The museum typically attracts a mature crowd, and we hope they consider more programming to attract more college students to the museum.
Opportunities for Additional Learning: Winterthur has an impressive library that students and the public can visit. Winterthur runs a museum education program for children that holds scavenger hunts to help kids engage and explore the exhibits. Other special events and programs are listed on the website.
Special Events: Winterthur has a plethora of seasonal programming, such as Summer Nights at Winterthur, After Hours (with drinks and live music), special Garden Tours including a children's vegetable garden, conferences, the Point-to-Point horse race, and the Delaware Antiques show. The entire house is decorated with special events for Christmas.
 Links-
Site Description- Winterthur Main Website-http://www.winterthur.org
Hours and Cost- Admission Packages-http://www.winterthur.org/visit/admission-packages/
Be Sure Not to Miss- Museum Collection- http://www.winterthur.org/collections/museum/
Fun Activities- Family Friendly:http://www.winterthur.org/education/family/
Opportunities for Further Learning- http://www.winterthur.org/education/school-college/
Enchanted Woods-http://www.winterthur.org/visit/garden/enchanted-woods/
Winterthur Gardens-http://www.winterthur.org/visit/garden/
---
Brandywine River Museum of Art     Brandywine Zoo     Delaware Children's Museum     Delaware Art Museum     Hagley Museum and Library     Historic Odessa     Longwood Gardens     Newark History Museum     Winterthur Museum, Gardens and Library
---