The Historic Odessa site comprises a complex of three historic house museums, a pump house, a bank repurposed as a visitor's center, and a tavern that collectively span two centuries of Delaware architecture and history. The outdoor components of the site, including a picturesque Colonial Revival Garden, are available for exploration free of cost. Guided tours, which last approximately 1.5 hours however, grant visitors access to the interiors of historic buildings and a window to a vast collection that samples the material culture of the mid-Atlantic region since colonial time. Visitors who work up an appetite during their plunge into history may refresh themselves at Cantwell's Tavern, a functioning restaurant nestled in a nineteenth century hotel building.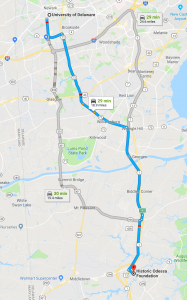 Getting There from UD: 31 minutes (~20 miles)
Address: 201 Main Street Odessa, DE 1973-
Price: $ discounted tickets available for groups, students, seniors, and children under age 6
Hours: Please note that Historic Odessa is closed for the months of January and February, and consult the website for additional details.
How Long to Spend: No more than 3 hours, including lunch
Go Here If You: Live in Delaware and are a buff for local history and/or fine decorative arts, especially china. If you are interested in architecture, Historic Odessa might spark interest. The tour points out the inspiration from Philadelphia's Georgian architecture, as well as specific styles within the homes, such as dental molding, rounded bricks known as the "water table" style, and even early American chairs in Chippendale style or with "sausage handles/turnings".
Be Sure Not to Miss: There are temporary mini exhibitions throughout the tours of the homes, such as in the Corbit Sharp house and the Wilson Warner house. During this season, there are tea exhibitions, touching on the art of tea-making. During the summer of 2018, Historic Odessa will feature a temporary loan exhibition, "A Tapestry of Relationships: Collecting Delaware's Art", planned for display in the Visitor's Center.
Fun Activities: Historic Odessa allows visitors to picnic on their grounds, a wonderful opportunity in such a scenic location. Visitors can peruse the Butler and Cooke Antique Shop, opened in 1780, or enjoy lunch at Cantwell's Tavern, which offers a delicious variety of farm-to-table dishes.
Know Before You Go: Historic Odessa could provide a challenge for families with young children or those visitors who don't enjoy history. There are a lot of interesting parts of the historic house museums, but there are not things to touch or to interact with. (For children attending with a school or camp group it's a different story). Also, most of the buildings are not air conditioned and visitors will spend some time walking outside so take weather into consideration when planning a trip.
We Wish They Had: more accommodations for those with disabilities. To maintain the originality the of historic structures there were lots of stairs. Since there are so many unique buildings to see, it would be nice to have uniformly-trained tour guides available to inform all guests about the historic houses. We noticed that different tour guides gave much different information to visitors.
Opportunities for Additional Learning: Look out for additional lectures and presentations, including this season's lectures on the current exhibit, "A History of Tea Caddies from the Bramble Collection".
Special Events to Look For: Historic Odessa occasionally hosts such supplemental programming as yoga lessons in the visitor's center and hearth-cooking demonstrations in their Collins-Sharp House kitchen, a staple in their school trip programming. Annually, they hold a brew fest on their grounds that celebrates local craft beers and those that make them. Historic Odessa also serves as an event space for special occasions, including weddings and corporate events, catered by Cantwell's Tavern Restaurant.
Consult the website for current hours, directions, and more details: https://www.historicodessa.org/
---
Brandywine River Museum of Art     Brandywine Zoo     Delaware Children's Museum     Delaware Art Museum     Hagley Museum and Library     Historic Odessa     Longwood Gardens     Newark History Museum     Winterthur Museum, Gardens and Library
---