The Delaware Children's Museum is a small gem located on the Wilmington Riverfront. Whether you are a local Delawarean or a visitor to the area, the DCM is the perfect place to bring children and pre-teens for a fun and educational bonding experience as a family! If you are a student who has younger family members visiting or are a parent looking to enhance your trip itinerary, the Delaware Children's Museum is an easily-accessible, affordable addition to your day.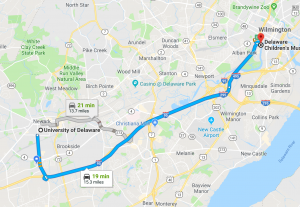 Getting There from UD: about 14 miles (25 minutes)
Address: 550 Justison Street Wilmington, DE 19801
Price: $
How Long to Spend: 2.5 hours
Go Here If You: The Delaware Children's Museum offers interpretations that entertain and teach visitors, young and old. The museum has many accessibility options including a room for nursing mothers, ramps for strollers/wheelchairs, and even an elevator on the "Stratosphere" climbing structure which can be used with a DCM employee's assistance.
Be Sure Not to Miss: There are great interactive opportunities for museum visitors throughout the DCM, including a model of the water cycle, building blocks and other structural materials, and a lemonade stand, functioning as an imaginary small business. Visitors can learn about ecosystems and meet live fish in the ECOnnect exhibit, or take home projects featuring rotating crafts from the Studio-D art room.
Fun Activities: Since the museum is a children's museum, there are virtually endless activities. In addition to the aforementioned exhibits, there is also a giant Connect Four game that anyone can get a kick out of. Each room has at least one interactive attraction, such as the giant slide in the "Bank On It" room or the "Training Wheels" exhibit, where children can change car tires and even spin gears. For older children the "Power of Me" room has a variety of physical challenges, like basketball hoops and a machine that calculates how fast a person is throwing a ball.
Know Before You Go: Parking is free and ample. There is no vending machine or snack bar inside, but packed lunches are permitted and there is indoor picnic-style seating. There are also many restaurants located nearby. During the school year, weekends are busier than weekdays. During the summer, the weekdays are busier than the weekends. Since the museum is located on the Wilmington Riverfront, there are many things to do in that area, that when paired with this museum, could make a wonderful day trip!
We Wish They Had: This children's museum is clearly well-loved and would welcome funds to refresh its exhibits. Since the museum offers a lot of flexibility regarding the order you visit exhibits, the DCM could improve the labels that indicate entrances and exits for each exhibit to increase clarity. One of the rooms is also a rotating exhibit, occupied by a simple cardboard maze. The museum seems to provide a variety of interactive exhibits in this room, as long as you happen to be in the right place at the right time.
Opportunities for Additional Learning: Birthday parties, school/camp groups, and community organizations are welcome and able to select a themed program from a catalog. There are private party rooms where food can be served and small group instruction (selected from a catalog) can take place.
Special Events to Look For: Every Friday $5 admission after 5pm. Third Wednesday of the month is $2 admission. Through the week, there are various educational themed events and demonstrations, detailed on the website. Fridays and weekends have many events going on that are intended to be family affairs.
Consult the website for current hours, directions, and more details: http://delawarechildrensmuseum.org/
---
Brandywine River Museum of Art     Brandywine Zoo     Delaware Children's Museum     Delaware Art Museum     Hagley Museum and Library     Historic Odessa     Longwood Gardens     Newark History Museum     Winterthur Museum, Gardens and Library
---