Longwood Gardens has 1,077 acres of grounds to explore and includes many structures on those grounds, such as a Conservatory with all kinds of flora to examine, a bell tower, and the Peirce-DuPont house. Three large tree houses that visitors can walk into, a Visitor's Center topiary gardens and fountains complete the outdoor portions of the gardens. A trip to Longwood Gardens is fit for students wishing to spend the day with their friends or family.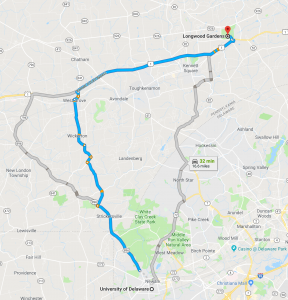 Getting There from UD: About 35 minutes (20 miles), 1001 Longwood Rd, Kennett Square, PA 19348
Price: Students: $$, Regular: $$, Senior: $$, Youth: $, Toddler: Free
*25% military discount is available with valid ID
*Holiday season has more expensive prices overall
*Memberships are available at varying prices, offering a wide variety of perks
Hours: vary by season, check their website for details
How Long to Spend: The expansive grounds and range of activities to enjoy means visitors will need to set aside several hours at minimum to get the full Longwood experience, but an all-day trip is sure to keep you occupied and entertained to the fullest.
Go Here if You… want to experience the horticultural wonders the Gardens has to offer or learn about the incredible legacy of its creation. Families can enjoy the walking trails through meadows and treehouses or the winding paths through the enormous Conservatory. Although the Gardens can be self-guided in its entirety, guided tours offer an even more comprehensive overview of all Longwood has to offer if you're willing to pay an extra $20-$30 (for more information on guided tours, visit: https://longwoodgardens.org/visit/group-visits/group-tours
Be Sure Not to Miss… the Conservatory, which houses an array of different plant species within a massive four acres of indoor space. While visiting the Conservatory, you are given the opportunity to see foliage from all over the world. You'll also enjoy the Italian Water Garden and Main Fountain Garden. Designed by Pierre du Pont himself, these European-style gardens will make you feel as if you're in another land.
Fun Activities: Simple walking tours are some of the most fun a visitor can have as they travel through the gardens, preferably in bloom, taking in the nature and beauty of the grounds. On the grounds, the tree houses would be very enjoyable for families, especially children who would find the houses fascinating. In addition, fireworks and fountain shows that take place as scheduled throughout the summer are fun for all ages, along with the concert series that Longwood hosts.
Know Before You Go: Longwood Gardens is a vast area so wearing comfortable shoes is crucial. Taking a peek at the weather before you decide to make the trip is advisable, since a lot of the sights are outdoors. Bring bug spray and sunscreen since there will be lots of outdoor time. Make sure to check the website for what's in bloom, as some months there is not an outdoor display. There is a cafe and restaurant on the premises but they might be a bit expensive for some. Purchasing tickets in advance if possible is suggested, on weekends and peak days the gardens may sell out before you get there. The gardens are accessible to guests with physical or mobile disabilities but it might be hard to move around within the conservatory when it is busy with a wheelchair or scooter.
Room for Improvement/We Wish They Had: Since guests spend most of their visit on their feet, so we would have liked to have more places for to sit, rest, and enjoy the property. Benches were a scarcity to come by while touring the gardens. It would also be nice if there was a greater availability of small food carts placed throughout the property where guests could buy water and snacks during their visit, as opposed to their only option for food being to buy a whole meal at their on-site cafe or restaurant. For those visiting Longwood solely to learn more about the history of the property, you may find the interpretation in the Peirce-Dupont house museum to be limited. Additionally, a more generous student discount would be appreciated.
Opportunities for Additional Learning: Longwood Gardens offers a variety of additional learning opportunities for all ages. They have programs for kindergarten through continuing education and everything in between. For college students, internships are available as well as professional gardener training and a co-op program. They offer several different classes taught by their own staff and instructors in everything from ornamental horticulture to landscape and floral design.
Special Events to Look For: Longwood Gardens offers an incredible array of live performances. Winter and summer performance series bring an all-star line-up of award-winning artists and performers to the Gardens' stage. Still more entertainment is offered through fireworks and fountain displays, classical and organ concerts, and dining events. For more information, visit https://longwoodgardens.org/events-and-performances.
Consult the website for hours, directions, etc: https://longwoodgardens.org/
Links:
Fireworks/Fountain Shows (https://longwoodgardens.org/events-and-performances/events/fireworks-fountains-shows)
Upcoming Events (https://longwoodgardens.org/events-and-performances/exhibits)
Prices (https://longwoodgardens.org/visit)
Cafe (https://longwoodgardens.org/dine)
Purchase Tickets (https://tickets.longwoodgardens.org/ItemList.aspx?node_id=425303)
Additional Learning ( https://longwoodgardens.org/education)
Know Before You Go Tips ( https://longwoodgardens.org/visit/visiting-tips)
Guided Tour Information (https://longwoodgardens.org/visit/group-visits/group-tours)
---
Brandywine River Museum of Art     Brandywine Zoo     Delaware Children's Museum     Delaware Art Museum     Hagley Museum and Library     Historic Odessa     Longwood Gardens     Newark History Museum     Winterthur Museum, Gardens and Library
---