The Delaware  Museum of Natural History is a small institution with a variety of exhibits and programming devoted to science and nature. This site has a little bit of everything and is appealing to both children and adults. While most known for its extensive mollusk and bird collections, the museum collects much more including preserved eggs and small mammals. With both indoor and outdoor spaces to explore, visitors of all ages can discover a love for science and the natural world.
Inside the building   Visitors have the opportunity to learn about local and worldwide wildlife and natural processes. There are also interactive stations and informal education activities that occur in the main galleries, so keep an eye out for those! There are smaller exhibits and dioramas in the hallways between the two main rooms, where doors to the outdoor spaces and the entrance to the temporary exhibit space are located. There is also a coat room, lunch space, and handicap accessible bathrooms.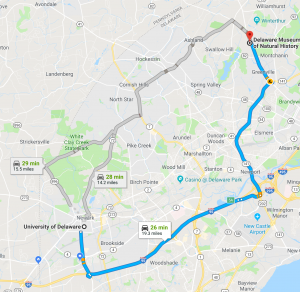 Getting There From UD:
Located in the Greenville area, about a half hour drive northeast of campus (About 14 miles). It is also just down the road from Winterthur Museum, Garden and Library and Hagley Museum.
4840 Kennett Pike Wilmington, DE 19807
Price : $
Ages 3-59: $9
Toddlers (ages 1-2): $3
Seniors (60+): $8
Hours: The Museum is open daily, with closures or adjusted times for Christmas Eve, Christmas day, New Years Eve, and Thanksgiving.        

How Long To Spend There: People typically spend 1-2 hours here. More time may be needed to participate in the interactive stations and outdoor activities.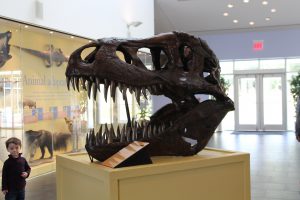 Go Here if You: Families and school groups in particular will love this interactive, kid-oriented museum. People interested in learning more about the local environment and wildlife from around the world will also find much to learn here. There is good access for visitors with disabilities.
Be Sure Not to Miss: The giant squid in the entrance hall, outdoor activities, and the temporary exhibition!
Fun Activities: Young children will enjoy the "Nature Nook," an immersive indoor experience teaching about the natural environment. The Nook includes an interactive landscape mural, eagle's nest reading corner, and artificial cave habitat.  They will learn how specific animals adapt to their environments, while playing in a fun and safe way.  Older kids will love the "Live Lab Stations" that make science come to life. These labs have interactive experiments that teach participants about various scientific topics such as the water cycle, wildlife, and more. Visitors of all ages will learn something new from the Ederic Exhibit Hall and  its impressive collection of taxidermy and dioramas.
Know  Before You Go: There is no cafeteria on site, but there are some vending machines with snacks and drinks in the Canteen. Pack a lunch! Pick a day with good weather, you'll want to check out the gardens and take part in the outdoor nature tours.
We Wish They Had: We wish every visitor could see the collection storage on third floor. You wouldn't believe the quantity and variety of species housed there. The upstairs collection contains a host of animal specimens, as well as other taxidermies that are not currently on display. This area of the museum is where researchers interact with the collections, and we would love a way for the public to get to see even a small part of  this during their visits.
There is a clever and informative egg exhibit near front entrance, which offers a glimpse into what the storage area looks like. It features a cabinet with drawers filled with egg specimens much like the  cabinets in collection storage. The display also includes a desk with books, notes, and instruments, as if it had been left that way by a researcher. It helps show visitors another role of museums–serving as research centers.
Opportunities for Additional Learning: If you study birds or mollusks, this is place to do it. DelMNH loves its volunteers! Consider joining the team or applying for an internship.
Special Events to Look For:
Wine and Dinosaurs annual fundraiser
Outdoor nature tours on days with good weather
Temporary exhibits that change every few months–often geared toward kids and families.
Opportunities available for group tours and programs with advanced planning.
Consult the website for current hours, directions, and more details
---
Brandywine River Museum of Art     Brandywine Zoo     Delaware Children's Museum     Delaware Art Museum     Hagley Museum and Library     Historic Odessa     Longwood Gardens     Newark History Museum     Winterthur Museum, Gardens and Library
---